Nowadays, Google's queries cover more than 75% of the queries on the Internet. Mastering SEO has become essential to ensure its visibility on the internet. That's why web editors are essential to create content that conforms to certain rules. Do you like to write and keep up to date with the latest algorithmic test updates from various communication channels? Then becoming a web editor is within your reach!
What are the functions of a web editor?
The main mission of a web editor is to write clearly. However, as a web editor, you will be subject to different abbreviations from your clients.
There are different types of content depending on the communication channel. For example for LinkedIn, you have to create posts that are no more than 3000 characters long when Twitter only asks for 280.
You can also opt for specialization. Some web writers decide to write exclusively for subjects such as legal, accounting or insurance. Depending on your level of training and your affinity with different disciplines, you can then choose between a fairly general mission or a very specific mission.
As a web editor you also need to ensure certain details which include:
the credibility of your sources;
correspondence of your writing style with that of your client's editorial line;
compliance with the required number of words;
compliance with deadlines;
The tone is appropriate for the target and the communication channel.
There are also some principles to apply such as "who? what? how?" or "what?" To help you write the most relevant articles or posts.
Why Training in Web Writing?
Web writing is a booming business! With the Internet being an essential means of communicating on a project today, mastery of writing for the web is a real added value on a profile. If you have a good pen and love to play with words, working as a web editor can be a really interesting experience.
Web writing allows you to have training on a wide variety of topics and this will only strengthen your personal culture!
Also, being a web editor, you get a lot of flexibility in your organization, at least if you decide to work as a freelancer. You will be free to choose your mission and you will also be able to ensure a comfortable remuneration as per your expertise.
Our pick of online web writing training
live mentor
Online (video and mentor)
access to a private group
LiveMentor is a professional training organization dedicated to entrepreneurs and business owners. LiveMentor offers web editor training, as well as many other training courses on digital marketing (social networks, Google Ads, SEO, e-commerce, etc.). In total, LiveMentor offers 14 certification courses for entrepreneurs.
CFPJ – Training and Advanced Training Center for Journalists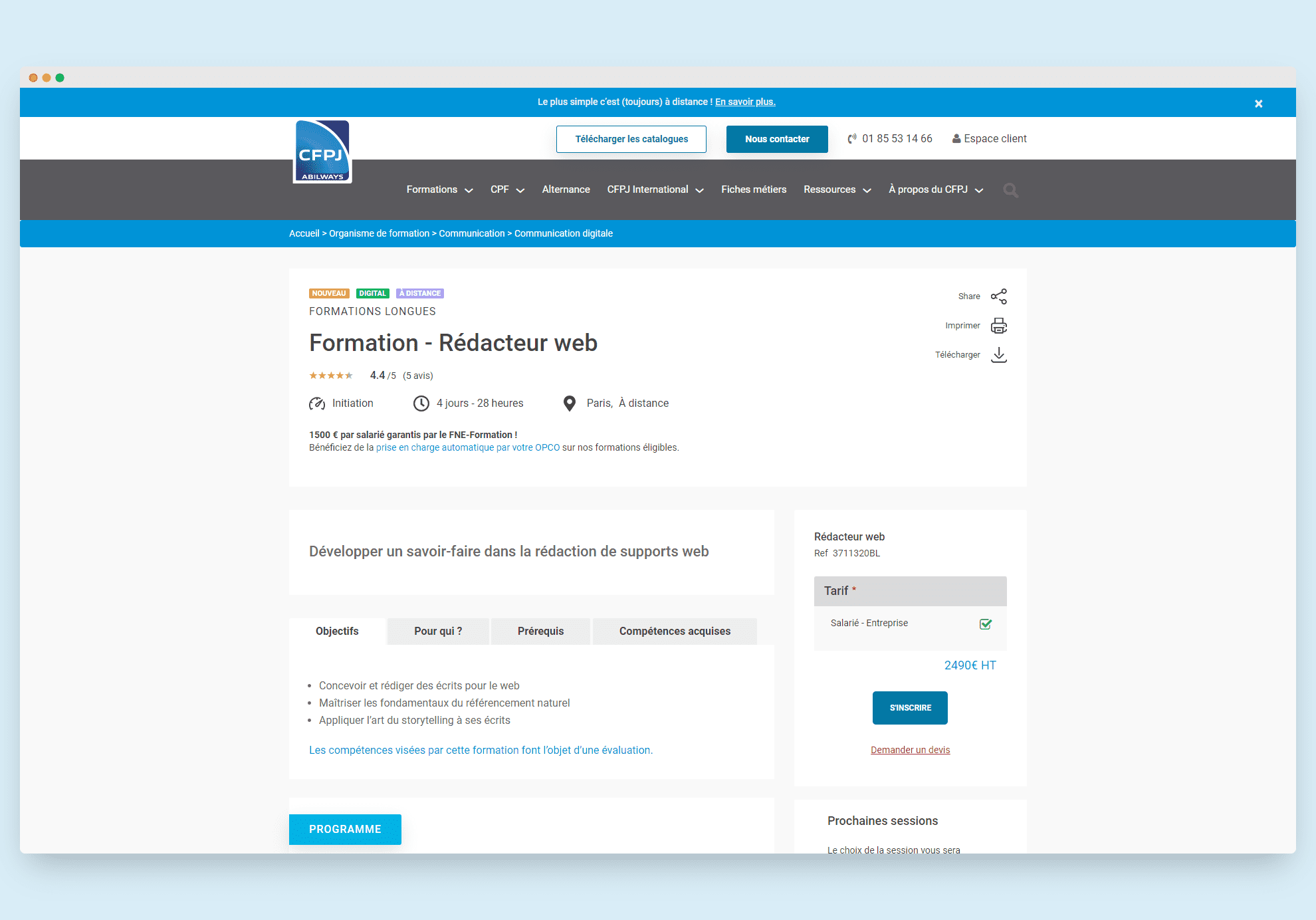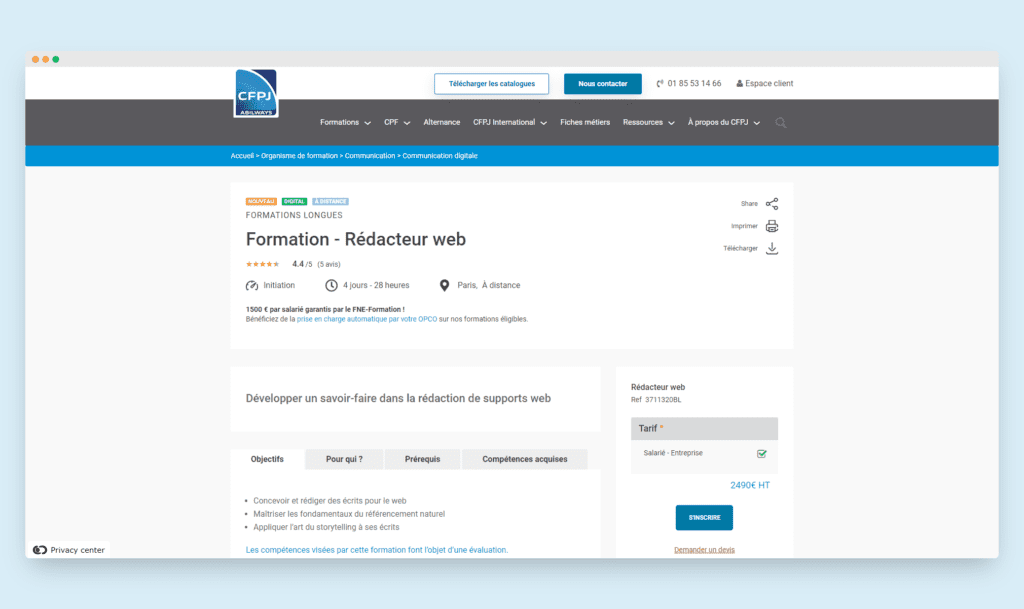 The Center de Formation de Perfection des Journalists is a private higher education institution originally specialized in preparatory training in journalism. CFPJ now offers online training such as the Web Writer Training Module.
A reputed and recognized institution in the professional world
Visiplus Academy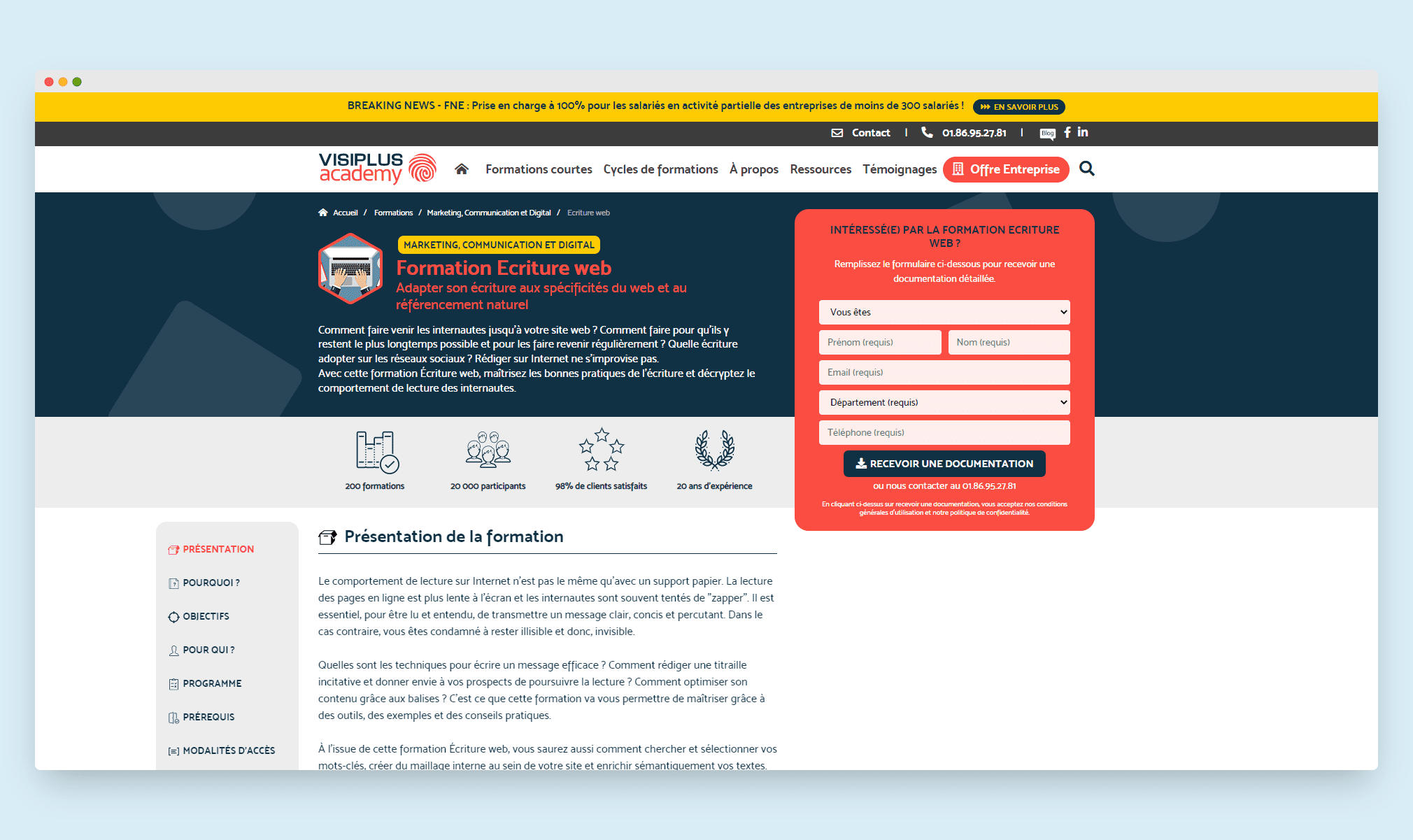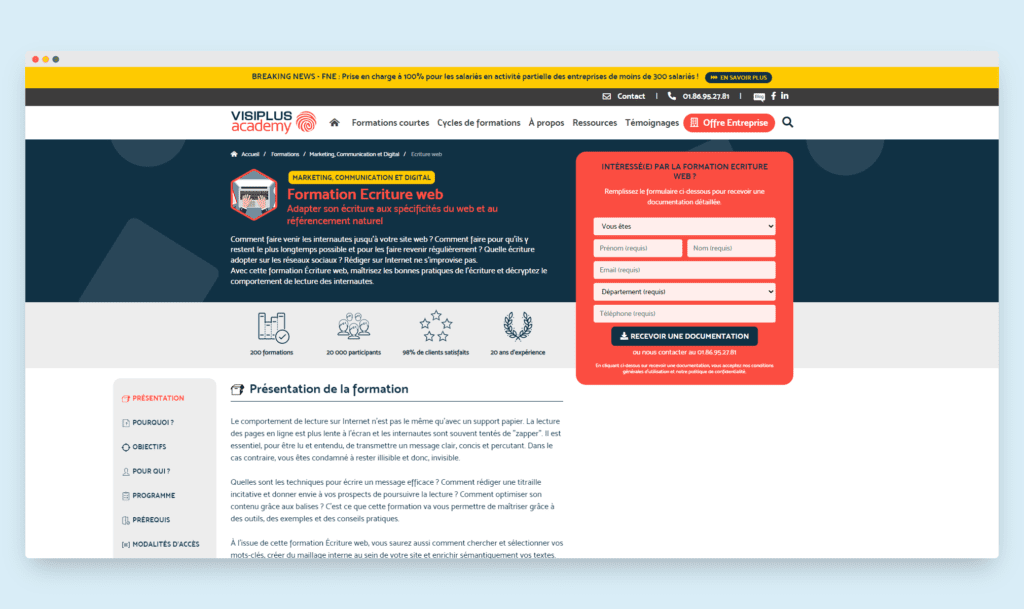 VISIPLUS ACADEMY is an e-learning platform that offers over 200 online training courses! Specialized in digital, VISIPLUS ACADEMY provides personalized support on digital marketing, web development and even certified training like Google Analytics!
Training Insurance Fund (FAF), Personal Training Account (CPF), OPCO, etc.
A network of over 20,000 alumni
editors counter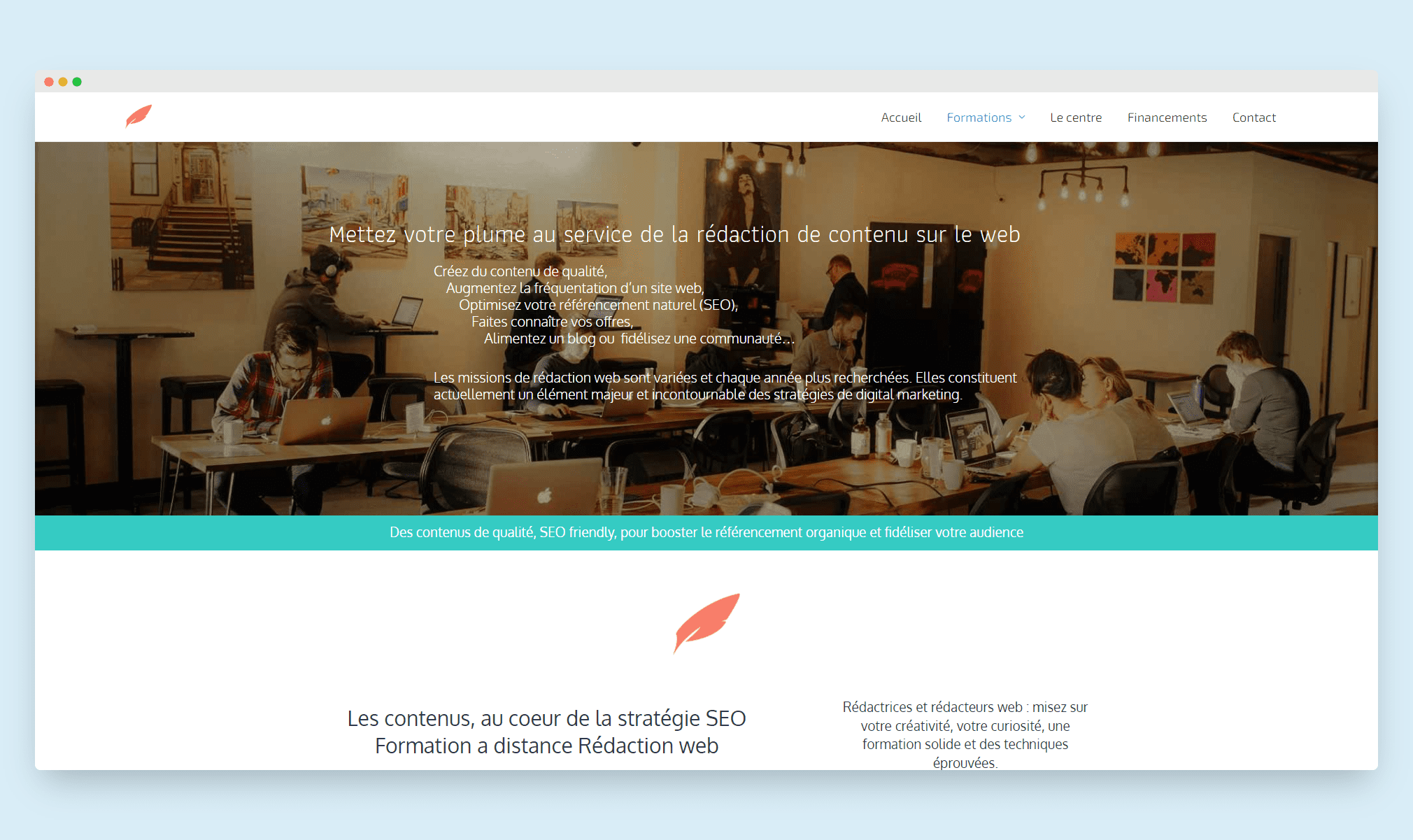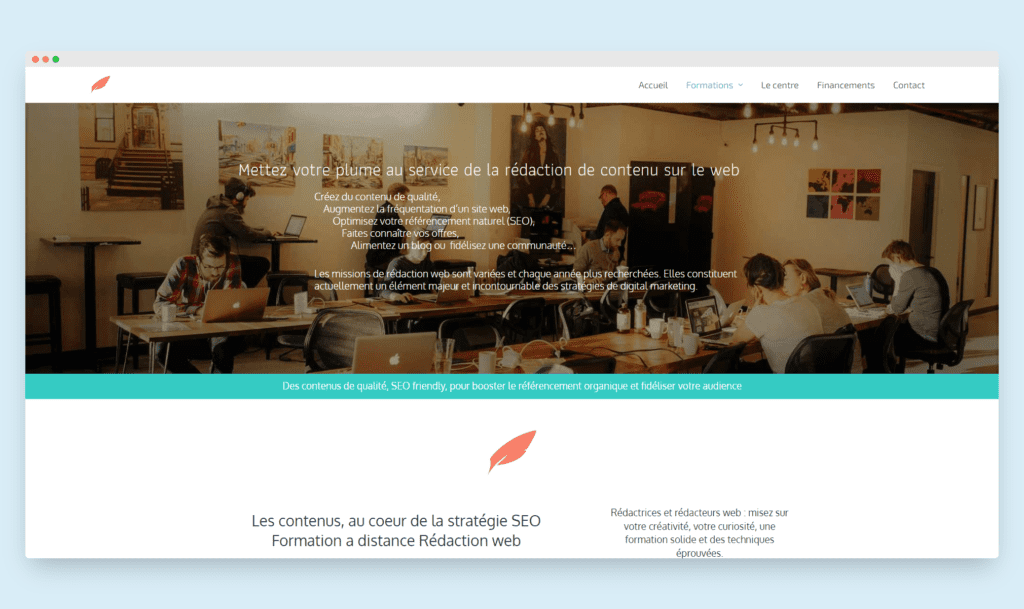 Le Comptoir des Rédacteurs is a 100% online training platform dedicated to digital businesses. Created in 2011, Le Comptoir des Rédacteurs specializes in content writing and provides training focused on everyone's personal project.
Individual follow-up for each training
web writing training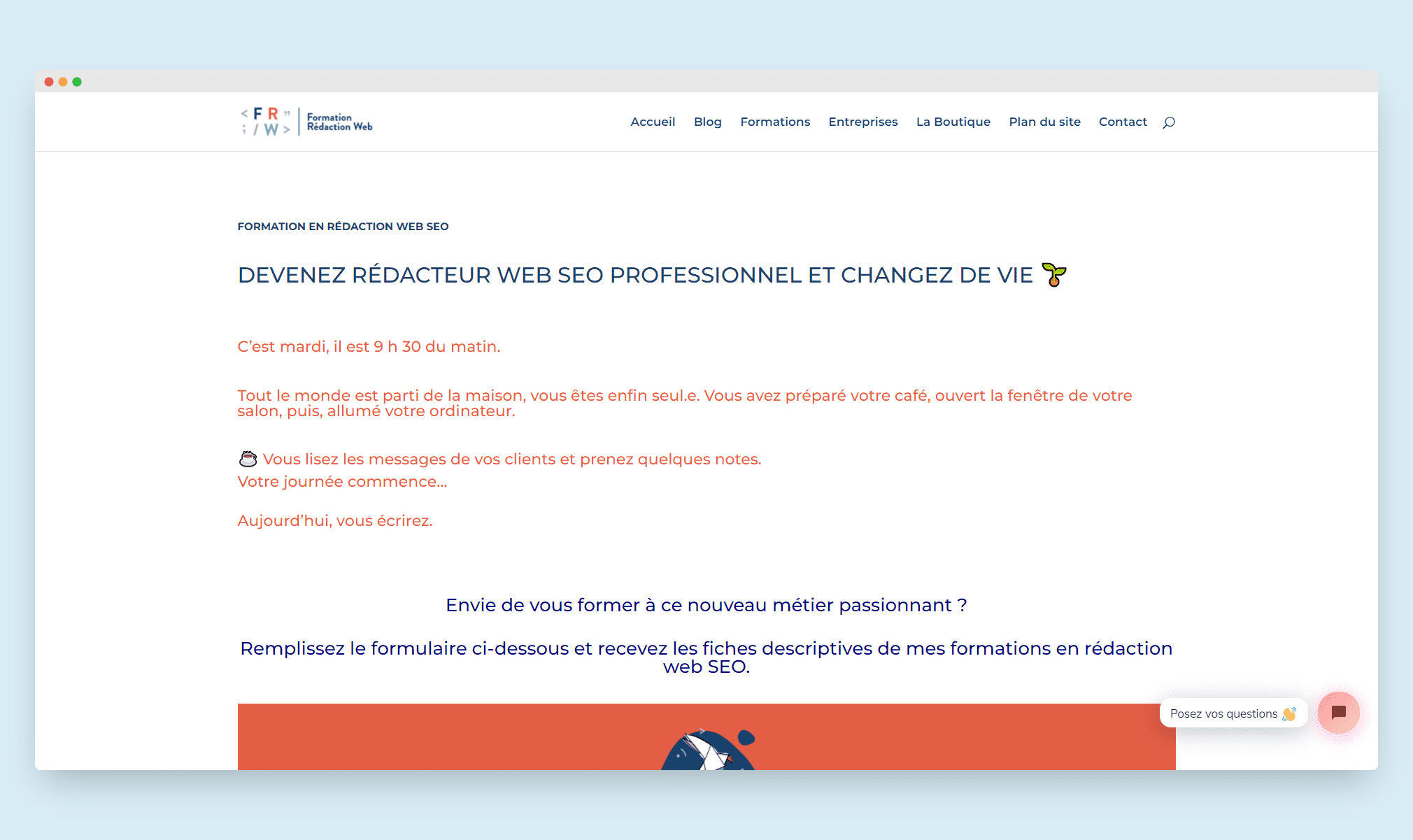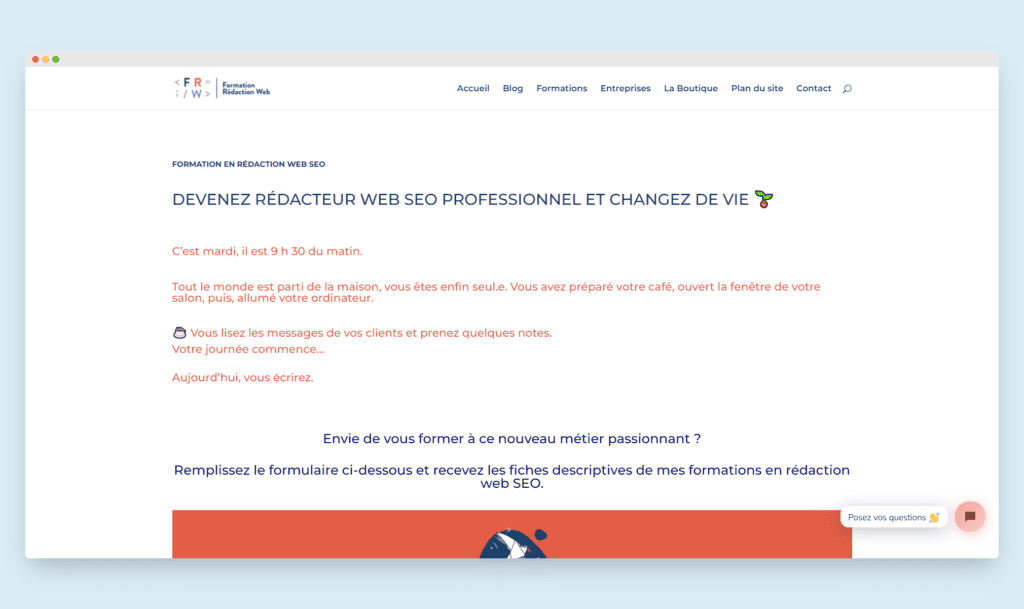 Web Writing Training, a site created by content strategy consultant and founder of the La RedacDuWeb.fr platform, Lucie Rondlet. The training courses offered on this platform are divided into 3 proposals, Origami, Liberte and Liberte Pro. Building on her experience, Lucie Rondlett offers 3 state-accredited diploma courses.
Personal Training Account (CPF) for Origami and Liberte Pro Modules
Multiple formulas according to your needs
Who is training to be a web editor?
Web editor training is aimed at all professionals who want to specialize in writing for the web! Whether you're self-employed, an employee, a business manager, you can find training tailored to your project and your budget!
However, be sure to consult the description and prerequisites of training courses as some are for writers who already have the basics while others will allow you to learn jobs from A to Z.
How To Choose The Best Web Editor Training?
Our selection is based on the most popular training courses in the industry, but this is clearly a non-exhaustive list! Keep in mind that not every training will be suitable for every professional project, so be sure to find the one that best suits you. To help direct you to the most appropriate training, we recommend you visit:
Level : Do you have web writing experience or are you just starting out?
Material : Do you only need dedicated training for web writing or do you want to learn more about topics such as copywriting, writing for communicators, a particular type of social network, etc.?
type of training : Do you want training in video, live, workshop format? Online or face-to-face training in the city of your choice?
duration of training : Do you plan to devote 100% of yourself to this training or do you have to add other activities in parallel?
Grant : If the training you choose is not free, have you thought of a financial solution?
Our selection is primarily made up of online courses as most appreciate the flexibility of distance learning courses. Know that it is still quite possible to follow face-to-face training according to your schedule and the city you are located in!
How to finance training in web writing?
While some of the web editor training courses we recommend are free, most are chargeable. Luckily for you, there are several training financing schemes in France, of which we summarize the main ones here depending on your situation:
| Your position | potential financing |
| --- | --- |
| job seeker | CPF, Ple Emploi (AIF, POEI), Agefiph, Supplementary Pension Fund or Departmental Council |
| employees on permanent or fixed term contracts | CPF, Transitional CPF, VAE, OPCO |
| temporary employee | CPF, Transitional CPF, VAE, CIPI, CDPI |
| auto entrepreneurs | FAF, CPF |
funding plans
nice to know

Keep in mind that each funding organization provides support to guide you towards the best solution.
You may inquire via phone, email or form, depending on the means of contact provided by the organization. Most of the time, you will be offered an appointment to study your file and find out whether or not your training is likely to be financed.
questions to ask
Who is web editor training for?



Web Editor Training is for anyone who wants to learn about writing for the web! There are several levels of training, from beginner to advanced, so be sure to consult these specialties.
How Much Budget to Train in Web Writing?



The starting price for training in web writing is around 300€. But there are free courses too!
Are there free web editor training courses?



You can certainly take training on the job of web editor for free, thanks to free access courses, videos on YouTube, blog articles… However, you won't have the same amount of follow-up as training supervised by experts.